Blue Solar MPPT
£66.91 – £571.77
Description
Victron energy blue solar charge controllers for improved MPPT performance. This type contains the latest algorithm to make sure every battery type is processed to maximize performance.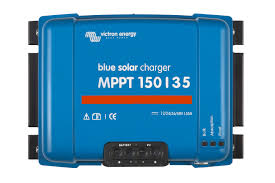 Bluesolar charge controllers from Victron energy for high performance MPPT tracking
Along with standard lead acid style battery it is an ideal companion for AGM right the way through to lithium ion LiFeP04 battery systems.
Blue solar MPPT
Charge controller from Victron can be linked to the battery state and charging cycle to your smart phone.
Ideal for instant read out of energy generated verses energy used, plus stored backup capacity.