Clay tile fixing kits
From: £100.49 (Exc. VAT) - £120.59 - Inc. Vat
Description
We offer a Marley tile solar kit to fix solar panel to thin clay type double tiles.
Marley tile solar kit
options: 1 row, 2 rows, 3 rows or 4 rows of solar panels. The length and height of rows are determined by the size of roof.
Please make sure you check the roof size against any solar panels dimensions.
This is the product bracket we would offer for flat clay tiles. These stainless steel brackets are 2mm thick by 150mm wide stainless steel, so will easily fix under thin roof tiles using our stainless steel screws.
We offer Marley modern tile solar panel fixing kits based upon 400-450mm rafter spacings. If your roof is different, then please advise. As the amount of brackets could alter depending on the spacing.
Data
Marley tile bracket numbers with rafter spacing @ 450mm between timbers
1 panel kit x 1 row portrait = 4 brackets
2 panel kit x 1 row portrait = 7 brackets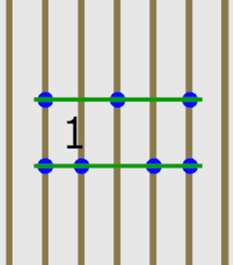 2 panel kit x 1 row landscape = 7 brackets         
3 panel kit x 1 row portrait = 9 brackets                         
3 panel kit x 1 row landscape = 10 brackets 
4 panel kit x 1 row portrait = 11 brackets                   
5 panel kit x 1 row portrait = 13 brackets           
6 panel kit x 1 row portrait= 15 brackets
6 panel kit x 2 rows portrait = 18 brackets                         
7 panel kit x 1 row portrait = 17 brackets         
8 panel kit x 1 row portrait = 21 brackets
8 panel kit x 2 rows portrait = 22 brackets               
9 panel kit x 1 row portrait = 23 brackets
10 panel kit x 2 rows portrait = 26 brackets                   
12 panel kit x 2 rows portrait = 30 brackets     
14 panel kit x 2 rows portrait = 34 brackets
16 panel kit x 2 rows portrait = 42 brackets