Concrete Tile Fixing Kit
From: £92.05 (Exc. VAT) - £110.46 - Inc. Vat
Description
CONCRETE TILE SOLAR FIXING KIT
IN PORTRAIT ORIENTATION.
A fixed bracket kit for new build concrete style roof tiles or a vario 1 adjustable bracket for older uneven roofs.
In the notes, please advise which bracket is required.
On-roof standard connection kits in portrait orientation.
Can be used on many marley or any concrete type tiles. Each concrete tile solar fixing kit will include all equipment fixing parts required. Some installations may require further parts, if in doubt please ask. Roof installation kits in portrait to match your own panels.
Each standard kit includes rails, end caps, fixing brackets, bracket flashing kit, stainless fixing screws, T bolts and nuts, rail joiners and fixing clamps to match your solar modules.
Click here to download – Pan Tile Brochure
Note! We will need to know the module size prior to dispatching equipment kit, due to the many different sized solar panels that are now on the market.
PLEASE ADVICE CLAMP SIZE TO MATCH YOUR SOLAR MODULES:
Check your solar panel size before placing a kit order
Clamp sizes available:
32mm, 34-36mm, 37-38mm, 39-41mm, 42-44mm, 45-47mm, 49-50mm
If you do not tell us the

SOLAR PANEL SIZE

you are using: We will send out universal mid and end clamps.
Universal clamps will suit solar panels sizes = 32-42mm
We offer concrete tile solar panel fixing kits based upon 400-450mm rafter spacings. If your roof is different, then please advise. As the amount of brackets could alter depending on the spacing.
Data
Concrete/pantile bracket quantiles with rafter spacing @ 450mm between timbers
1 panel kit x 1 row portrait = 4 brackets
2 panel kit x 1 row portrait = 7 brackets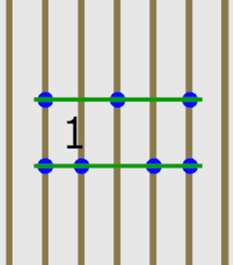 2 panel kit x 1 row landscape = 7 brackets         
3 panel kit x 1 row portrait = 9 brackets                         
3 panel kit x 1 row landscape = 10 brackets 
4 panel kit x 1 row portrait = 11 brackets                   
5 panel kit x 1 row portrait = 13 brackets           
6 panel kit x 1 row portrait= 15 brackets
6 panel kit x 2 rows portrait = 18 brackets                         
7 panel kit x 1 row portrait = 17 brackets         
8 panel kit x 1 row portrait = 21 brackets
8 panel kit x 2 rows portrait = 22 brackets               
9 panel kit x 1 row portrait = 23 brackets
10 panel kit x 2 rows portrait = 26 brackets                   
12 panel kit x 2 rows portrait = 30 brackets     
14 panel kit x 2 rows portrait = 34 brackets
16 panel kit x 2 rows portrait = 42 brackets