D dome panel kits
(Exc. VAT) - £0.00 - Inc. Vat
Description
We offer a range of D dome panel kits to sit onto flat roofs with suitable ballast.
Depending on the style of roof, location and height above ground level, we can advise how much ballast will be required to stop the panels moving in strong winds.
These kits are made up using the latest K2 6.10 system components.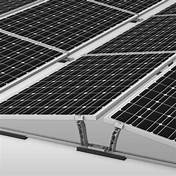 Available in the following east to west layout:
2 panels one row = 1 + 1 PV Panels back to back
4 panels one row = 2 + 2 PV panels back to back
6 panels one row = 3 + 3 PV panels back to back
8 panels one row = 4 + 4 PV panels back to back
10 panels one row = 5 + 5 PV panels back to back
12 panels one row = 6 + 6 PV panels back to back
14 panels one row = 7 + 7 PV panels back to back
16 panels one row = 8 + 8 PV panels back to back