DBS805 Solar Streetlight
From: £1,790.00 (Exc. VAT) - £2,148.00 - Inc. Vat
DBS805 lightweight solar powered streetlight. 6w-30w which has been designed and produced in the UK, to suit any locational need where illumination is required. Quick and easy to assemble permanently in place onto new or existing lamp post columns of 76mm, 89mm, or 114mm diameter. But we need to know the size of column you intend to use, if you are placing this system onto an existing column. As we only send out one size 76mm, 89mm or 114mm fixing per package.
Ideal for car parks, walkways, and play areas where a strong robust lightweight product is required.
Now available using vandal resistant material parts.
Select from product options
MAKE YOUR SELECTION - DBS805 Solar Streetlight
We endeavour to ship all products within 48 hours of order time and on a next day delivery service where possible.
For more information, you can read through our Delivery Policy
Description
Dragons Breath Solar DBS805 solar streetlight.
We are pleased to announce the latest solar street lighting system to be designed and produced in the UK for uses at any location on Earth.
This unique solar lighting system has the ability to be positioned in such a way that the angle of the solar panel can match any location.
This product can be retro fitted onto NEW or existing 76mm, 89mm or 114mm diameter columns and posts.
The luminary can be set to perform a wide range of duties taking the maximum solar irradiance at each location. The DBS805 luminary can be set by us in our factory to deliver illumination at dusk each day 365 days per year. This works on a dusk until dawn program, allowing the energy in battery captured by the suns energy during daylight hours to be used in a calculated method allowing the light distribution to be used when needed. By way of the DBS805 PIR sensor, pedestrians or vehicles can be picked up by sensor to make the light engage in a number of ways. This can be with the luminary be set to only operate when needed, (Zero output until required) or the sequence can be set on a lower background value, until within 10m radius of the sensor. This will then illuminate to 100% value for a pre-determined time period. The light output @ 145lw/m can also be adjusted by us to provide anything from 6w output up to 30w output value at a maximum of 4,350lm.
DBS805-60 for locations that require a high lux level, we offer this to provide a greater lux performance over longer time periods. This light has been developed for either locations that do not achieve a high degree of irradiance, or require the luminary to provide a greater output than normally would be associated with the standard setting. This luminary can be set up to 60w output if needed. We would insist that this system was only mounted onto 114mm diameter columns.
The luminary because of its light weight can be doubled up for car parks and similar locations where the column needs to house 2 separate Lighting systems. This can be done using a minimum column size of 114mm.
If you have a specific project in mind, please give us a call to discuss the options. For a look at the other street lighting systems we offer, you can head to the following link : Solar Street Lights
When using 76mm, 89mm and 114mm columns.
The following should be observed.
As a guide when using suitable existing sized columns, as the material age and condition may be unknown. Our DBS805 solar lighting system in the UK, should be positioned at maximum heights with the solar panels being:
3m above ground level for 76mm diameter tubes
4m above ground level for 89mm diameter tubes
>6.5m above ground level for 114mm diameter tubes
As you will understand the age, condition and depth of existing columns should also be considered.
When installing new columns, these are of a known material specification, therefore these can be positioned on the following sized posts:
76mm diameter columns @ 3.0m above ground level
89mm diameter columns @ 4m above ground level
114mm diameter columns @ 6.5m above ground level
DBS805-dual range is now available in a dual luminary option for locations such as car parks, that require a central column to hold a double light unit. These are only available when affixed onto new columns. The luminary output can be set to match the requirements of the location. See our illustration below. Luminary can be positioned in a 360° circumference around the column to point North/South or East/West as an example or any degree in between.
The luminary arm can be positioned above or below the solar panels or any position in between.
The size of battery pack and solar panel are to match localized demands, based upon to the output needed from luminary.
DBS805z100 is a solar powered street light, designed by Dragons Breath Solar for international customers.
Manufactured to order, this product is essentially for equatorial regions across the globe, Ideal for when mains power is not available to illuminate outback locations.
Delivering up to 100w illumination values of 14,500lm capacity.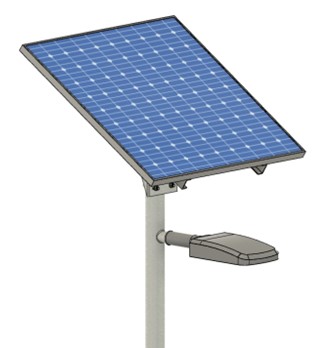 PDF
The Dragons Breath Solar Street light DBS805 is the very latest version from our company street ready for 2023. It is coupled with our lightweight high-performance 150w module c/w integrated LED that can be adjusted to suit any application.
Follow this link to see the performance of our product: DBS805 PDF
If a post or column is required, then follow the drop-down menu on main page for details.
Delivery on this product 10-14 working days from order.
Please advise your needs, in way of operating hours each evening and your location.
Additional Information
When providing a piece of equipment that will work at a given location for up to 12 hours.
It is important to understand the fundamentals of the location. These include the available solar irradiance levels. The possible overshadowing of tree line or buildings at location. The time of year light has to operate.
In most cases, the solar panel has to be of adequate size. Angled specifically to accept  the latitude direction of the SUN. Basically if the solar panels angle is unable to see the Sun. Then the performance level will be reduced. Managed by the size of the solar panel will determine how much power one could generate each day.
Our system is fully automated to pick up maximum irradiance levels at any location, based upon our 26 years in the industry. Knowledge is key to understanding what will work.