Solar garden kits
From: £245.50 (Exc. VAT) - £294.60 - Inc. Vat
Description
An easy construct solar ground or flat surface mounted fixing, K2 Vento tiltup system. Ideal for professional and DIY projects, this is used for securing solar panels onto a pre laid suitable flat surface.
These kits are designed for installation of  multiples of 3 solar panels in portrait orientation. If you required landscape orientation, then we need to know the length of panels being used to calculate the parts needed. These can be positioned permanently onto concrete foundations or ballasted onto appropriate platform.
All parts to build K2 Vento framework are included. The kit will not include foundation blocks.
This kit will not include solar panels, these can be purchased from us separately.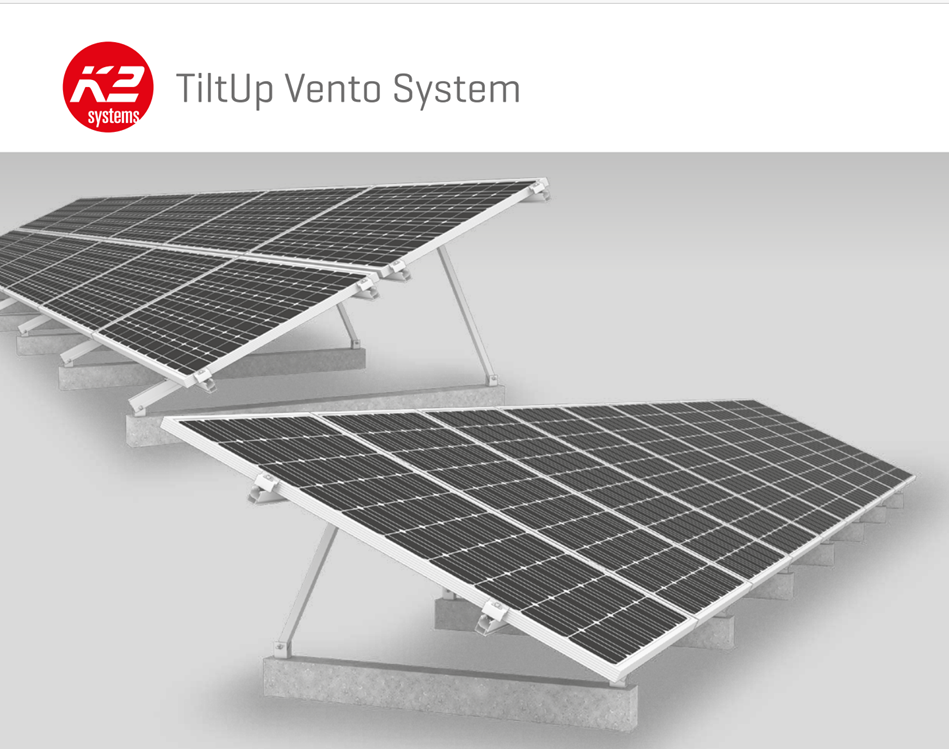 This system is designed to suit solar panels of many varying dimensions. Therefore, we need to know what size and the quantity of panels you intend to use, to allow us to provide a cost based upon this information.
It is essential to check that the roof structure has sufficient residual load capacity and that the pressure capacity of the roof insulation (where present) is not exceeded

Suitable for framed modules with a frame height 30 – 50 mm

Permissible module dimensions: length 1386 – 2293 mm, width 950 – 1135 mm

The inclination of the K2 Vento TiltUp system is
either 20, 25 or 30°

A minimum distance to the roof edge of 600 mm must be observed
Therefore we offer as standard this tilt up Vento system in multiples of 3 panels with a maximum of 12 panels in one combined fixture.
See option below for ground mounting.