Solar Panel rails
£39.60 (Exc. VAT) - £47.52 - Inc. Vat
PV panels roof fixing rails in 3.3m lengths sold individually or in multiples of 6 per bundle
Description
K2 solar panel rails 3.3m Lengths
New ultra light solar panel roof rails enable
less-waste reducing cutting time.
These ideal lengths will hold up to 3 full size landscape oriented solar panels sided by side.
If a larger span is required it is possible to use our K2 rail joiners to extend the lengths very
easily.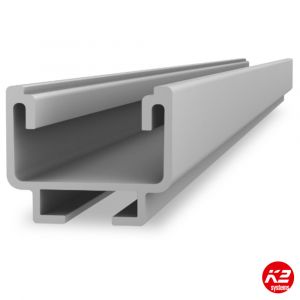 Made in 3.3m lengths. Each length will
fit exactly 3 standard panels. Lighter and less waste, ultra light rails.
Solar panel rails
Available for immediate dispatch.
We offer the PV rails in any quantities. They are dispatched in easily manageable courier bundles, if larger amounts are required please ask as this may require HGV courier services.
Material: Aluminum EN AW-6063 T66.
Other sizes of K2 solar rails available. K2 new rail lengths
| | | |
| --- | --- | --- |
| 2.25m Ideal on roof 2 panel installations or can be used for vertical mounting | Length 2.25m | |
| 3.3m (3 x panel length standard size) | Length 3.3m | |
| 4.4m (4 x panel rail length large span PV roof fixing) | Length 4.40m | |
Solar Panel Rail 3.3m standard PV roof fixing
Rails are currently sent out on 2-3 days delivery.
Associated Parts
To fix the 3m rails securely you will require:
Rail fixing brackets to match length of rails. These will brackets must match your roof covering
1 x T bolt and 1 x T nut per bracket
2 x stainless steel screws for each bracket
1 x Flashing kit to preserve roof integrity
Mid clamps to hold PV panels to rail
End clamps to hold PV panels to rails
Rails joiners to suit amount of rails
End caps for rails 2 x per rail