Heavy duty ground fixing
From: £59.00 (Exc. VAT) - £70.80 - Inc. Vat
Description
3 panel ground mounted solar panel heavy duty adjustable fixing station. is a permanent structure lasting 25 years plus. This product offer a secure heavy duty fixing point for many off the grid installations where solar panel are needed for 24/7 permanent use. This ground mounted fully galvanized T bar kit offers secure protection against all of the elements. The kit is offered with or without ground mounting template for concrete foundation. Ideal for locations where it is fitted and forgotten, long lasting and extremely durable hot galvanized finish ensure corrosion resistance. This is mainly used for remote hostile environmental applications far away from grid connections where only animals are located. The T rack kit can be used for battery charging solutions in these areas.
We offer this to match almost any size solar panel, give us your requirements to enable us to calculate the loadings. We will produce this item to order so a delay of 3-4 weeks may be incurred for this ground mounted solar fixing after production order has been received and while it is being galvanized.
The kit is bolted onto a pre set concrete foundation with the mounting template set in situ prior to pouring cement. This then allows the user to simply bolts down the fixture once the concrete has set for permanent life long stability.
The T rack system kit is heavy so will be shipped out using appropriate courier service applicable to your location delivery address. This is available with our without foundation J bolt template.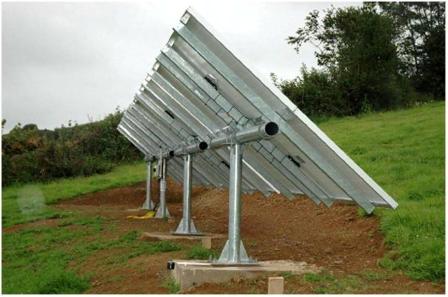 Only logged in customers who have purchased this product may leave a review.