Flat surface Solar Kits (39)

We provide flat surface solar kits to be adopted for use on a variety of  surfaces. Flat roof solar panels or systems have to be no more than 3° angle, otherwise we will not accept the enquiry. Also be aware that any flat roof surface will loose 600mm from each outside edge. This is to prevent any updraft occurring in…

Ground mounted solar kits (8)

The solution of fixing ground mounted solar kits and PV panels into a farm field or meadow or garden could never be easier with the K2 vento system using solid foundations as a base. The two options are suitable to accept a single panel. 3 panels or in groups of 9, 12 or 15 panels (4kw) nominal, using the triangle…

Roof fixings (85)

K2 Solar fixing components, a complete range of secure high quality parts. Roof fixings are designed and developed to ensure consistent tolerances are achieved when fitting each part together seamlessly. We offer help with designs as required through this SOLAR DESIGN SERVICE  Equipment included within range, solar photovoltaic slate brackets in stainless steel. Pan tile, plain tile, concrete tile, Marley, slates…

Sloped roof Solar kits (11)

Sloped Roof Solar Kits Every solar panel kit mounting brackets should be positioned under existing roof tiles. We offer covering using a flashing kit that fixes around the mounting system to prevent water ingress, this is known as best solar practice. Where roof mounting of any solar-installation provides residential solar panel roof installation with the ability to generate electricity power…

Small module mounting (8)

Small module mounting fixtures for all 12v panels make any installation secure and safe stopping any damage occurring to the glass. The  concept of mounting small solar panels onto posts or walls can be utilized by using this range of adjustable module fixings to match the desired requirement. Solar panel mounting brackets are available for all panel sizes.

Solar Sun Tracking (1)

Follow the Sun predominantly used in off grid scenarios. TRACK THE SUN. When considering photovoltaic PV systems natural light is the main consideration. The prospects of clouds trees or the height of the Suns arc across the hill side could provide low points in returning the maximum amounts of solar energy during the day. We have options that can provide…

From:

£

78.95
T rack system allows full size solar panels to be positioned in landscape orientation. This is an extra strong support system that can be adjusted to suit the suns inclination at location. The T rack kit is designed for locations with high wind and turbulent conditions. Because of the increased dimensions of solar panels, we now can only offer the…

Sale!

From:

£

1,410.00
K2 rack ground mounting solar panels system, offers support for 10 panels in landscape 5 above 5. 10 in portrait orientation. Ideal for 4kw + sized installations. This system can be added to very easily. All that is needed is a secure concrete foundation pad to affix the mounting.

Sale!

From:

£

120.67
SPECIAL SALE WHILE STOCKS LAST - 20% off complete on roof solar fixing kits This solar panel fixing bracket has been designed for Marley type roof tiles. These are fixed in place using 2 x stainless steel screws. Included in this kit are parts as follows: Solar panel rails Rail connectors Marley fixing brackets T bolts and nuts Stainless steel…

Sale!

From:

£

137.00
SPECIAL SALE WHILE STOCKS LAST - 20% off complete on roof solar fixing kits Solar panel fixing kits are ideal for many concrete tile/pantile roof types. Stainless steel brackets are held in place using 2 x stainless steel screws. The brackets hold solar roof rails. This setup can be used with our concrete tile solar flashing kits to weatherproof the…

Sale!

From:

£

8.37
SPECIAL SALE WHILE STOCKS LAST -20% off complete on roof solar fixing kits

£

295.00
The D Dome flat roof fixing kit by K2 allows the user to position 2 x solar panels back to back facing east west @ 10° angle. This offer maximum potential for flat roof areas. Classic D dome system installation Video link

£

495.00
D dome classic system to enable solar panels to be positioned on many flat surfaces. These solar panel fixing kit have been designed to allow solar panels to sit at a low angle back to back on a flat roof space. Designed for locations that require a non penetration of the roofs surface. Optional extras that may be required: Solar…

£

27.52
Use the long porter scale to support paving slabs used to hold down flat roof D dome system.

Go to this link for complete D dome systems.

£

7.16
D dome peak central mounting structure for solar panels on flat roofs. K2 part number: 2004125

From:

£

295.00
D Dome 4 x panel flat roof system, allows the user to position 4 x solar panels back to back facing east to west on a flat roof. Classic D dome system installation Video link  Second video: This is our d dome 6.10 flat roof fixing kit, price excludes solar panels.

From:

£

110.00
Any surface solar panel mounting legs

From:

£

250.00
We offer a non-foundation ground mounted kit to match localized conditions. Available in 2-12 module fixings, with extension ground pole kit as an extra. We also offer concrete pad fixing foundation adaptions. These kits are for standard sized pv panels. These kits are ideal for PV panels @ width of 1050mm. If you have larger solar panels, then you need…

From:

£

638.00
Select from drop down menu the solar panel array fixing required. Please note we will require the physical size of panels being used if you are supplying your own.

£

88.00
This is a ground mounted solar fixing which is used at locations where the ground is flat and firm. The solar fixing is position pointing south, using railway type sleepers to prevent the units from moving in strong winds. Ideal for small or large amounts of solar panels. Go to the box below to make a purchase

Sale!

From:

£

0.95
SPECIAL SALE WHILE STOCKS LAST -20% off box quantities Vario 2 stainless steel on roof solar rail fixing brackets are available individually or in trade box quantities of 25 brackets. These are available with or without stainless steel fixing screws and flashing kits to water tight seal any on roof installation. K2 product part number: 1000107 SPECIAL SALE WHILE STOCKS…

Sale!

From:

£

0.95
SPECIAL SALE WHILE STOCKS LAST -20% off box quantities The Marley modern clay tile stainless steel solar panel brackets are available individually or in trade box quantities of 20 brackets. These are available with or without stainless steel fixing screws for on roof installation. K2 product part number: 1000074 On roof complete Marley clay tile fixing kits

Sale!

From:

£

6.77
SPECIAL SALE WHILE STOCKS LAST - 20% off complete on roof solar fixing kits Slate solar fixing kits can be used on man-made and natural slate tiled roofs. Brackets are held in place using 2 x stainless steel screws. This can be used with our flashing kits to weatherproof the installation. All parts included in this kit are as follows:…

From:

£

3.95
Dome mini rail clamps.

From:

£

8.00
Installation video Click on this link to see mini rail flat fixing sets

From:

£

3.95
Mini rail dome end clamps.

Sale!

From:

£

9.46
SPECIAL SALE WHILE STOCKS LAST -20% off complete on roof solar fixing kits Mini rails are available

Sale!

From:

£

9.46
SPECIAL SALE WHILE STOCKS LAST -20% off complete on roof solar fixing kits Mini rails are available

Sale!

From:

£

68.00
SPECIAL SALE WHILE STOCKS LAST -20% off complete on roof solar fixing kits We offer the mini rail solar panel fixing system for box section metal roofs. These are positioned in place using 4 x stainless steel self tapping screws. The method is to place one of the mini rails on each corner for single solar panel installations. Where the…

From:

£

4.00
K2 product part number: 1005344 If this is out of stock, we will offer the universal 30-43mm end clamp.

£

4.30
K2 product part number: 1005268 If this is out of stock, we will offer the universal 30-43mm end clamp.

£

4.00
K2 product part number: 1005169 If this is out of stock, we will offer the universal 30-43mm end clamp.

£

4.30
If this is out of stock, we will offer the universal 30-43mm end clamp.

£

4.00
K2 product part number: 1005290 If this is out of stock, we will offer the universal 30-43mm end clamp.

£

4.30
If this is out of stock, we will offer the universal 30-43mm end clamp.

£

4.00
Alternative product: universal 30-43mm end clamp.

£

4.20
Alternative product: universal 30-43mm end clamp.

From:

£

4.30
Alternative product: universal 30-43mm mid clamp.

From:

£

4.30
Alternative product: (universal 30-43mm mid clamp).

£

4.40
Alternative product: universal 30-43mm mid clamp.

£

4.30
Alternative product: (universal 30-43mm mid clamp).

£

4.40
Alternative product: universal 30-43mm mid clamp.

£

4.30
Alternative product: universal 30-43mm mid clamp.

From:

£

125.00
Dragons Breath solar supply a post fixing kit for many sized PV panels. These include 115w, 140w, 160w, and 175w ridged framed panels. These can be used for permanent fixing onto 76mm, 89mm, and 114mm diameter tube. These post solar panel fixing kits can be purchased with or without the solar panels: To purchase enter amount in the drop down…

From:

£

13.92
The PAN TILE non adjustable stainless steel brackets are available individually or in box quantities of 25 brackets. These are available with or without stainless steel fixing screws and flashing kits to water tight seal any on roof installation

Sale!

From:

£

141.00
SPECIAL SALE WHILE STOCKS LAST - 20% off complete on roof solar fixing kits Plain tile solar kit to match many roof covering types, they can be used on man made or natural slate roofs. These dog leg brackets are easily held in place using 2 x stainless steel screws. Kit can be used with our flashing kits to weather…

£

1.65
K2 product part number: 2002544

Sale!

From:

£

9.43
The Vario 1 stainless steel on roof solar panel fixing brackets are available individually or in trade box quantities of 25 brackets. These are available with or without stainless steel fixing screws and flashing kits to water tight seal any on roof installation. K2 product part number: 1000125 SPECIAL SALE WHILE STOCKS LAST -20% off box quantities Complete on roof…

£

4.98
K2 product part number: 1004110

£

212.50
Dragons Breath Solar provide the S dome 6-10 flat roof system for holding 2 x solar panels in place onto a flat roof. Classic dome system installation Video link  | S dome 6 express assembly instructions

Sale!

From:

£

0.95
The Plain tile stainless steel brackets are available individually or in trade sale box quantities of 25 brackets. These are available with or without stainless steel fixing screws and flashing kits to water tight seal any on roof installation. K2 product part number: 1000214 SPECIAL SALE WHILE STOCKS LAST -20% off box quantities On roof complete plain tile fixing kits

£

5.95
K2 product part number: 1004107

£

1.44
K2 product part number: 1003571

Sale!

SPECIAL SALE WHILE STOCKS LAST -20% off box quantities The 200mm rafter solar panel fixing stainless steel brackets are available individually or in trade box quantities of 50 brackets. c/w rubber seal for water tight installation on roof installation. K2 product part number: 2000121 Complete on roof rafter fixing kits

Sale!

The 250mm rafter fixing stainless steel solar panel brackets are available individually or in trade box quantities of 50 brackets. c/w rubber seal for water tight installation on roof installation. K2 product part number: 2000122 SPECIAL SALE WHILE STOCKS LAST -20% off box quantities Complete on roof rafter fixing kits

Sale!

From:

£

162.00
K2 S dome video

£

185.00
dome classic system provides secure positioning of solar panels onto many flat roof surfaces. The frames are mechanically affixed together and positioned pointing south. Speed porter to allow weights positioned onto framework, are ideal for locations that require a non penetration of the roofs surface. Optional extras that may be required: Solar panels | video assembly of the S dome…
About this category
About Our Solar Panel Fixings
K2 Solar Fixings supplies for PV panel mounting WEB SHOP Providing Mounting Systems
Dragons Breath Solar is proud to be one of the renewable industries leading photovoltaic mountings and associated variations. We can deliver multiple options for fixing solar panels on the roof or ground using the K2 system, including PV panel brackets, solar mounting brackets and solar panel roof mounts.
See this presentation of what we can offer.
On roof pitched or flat surface ground mounted solar panel parts for any location and any type of building
Mounting solar panels onto a roof structure, using our battery systems or hybrid inverter kits. Used for fixing equipment. Onto slate, pan tile, concrete, corrugated or box metal profile roofs. We also supply equipment for flat surface or ground mounted solar panels.
Depending on the fixing arrangement we are able to provide equipment to match designed and manufactured out of high-quality stainless steel to accept slates, pan tiled and plain tile. These are then fixed to rafters using stainless steel long life screws. Where corrugated fasteners are required, we offer the Rafter screw, designed for superior strength. These are available to fix to metal or wood purling. Solar panel rails are then fixed to secure a base for the modules. These are available in varying section sizes and lengths to accommodate the roof layout. In circumstances when a metal clad box profile roof requires an economical approach, we would offer the speed rail system. This is attached using the standard K2 panel equipment fittings and parts. All modules are held in place by the corrosion resistant aluminum quick easy fit clamps, manufactured in sizes to match any solar panel. High quality N rack ground mounted into concrete foundation projects. Sizes matched to mirror customers' requests. Deliveries are calculated on weight and size of items to UK mainland postcodes. We reserve the right to increase courier charges to islands and inaccessible areas where delivery costs are higher than stated.
If you do not see the K2 mounting systems solar fixing product you require on our website, please contact us and ask. Below you will find that we have listed the common fixing brackets used in domestic and commercial installations. Slate, plain tile, pan tiled and Vario, rafter purling roofed, trapezoidal, speed fit, flat roof, ground mounted, plus all of the t bolts, nuts mid or end clamp fixings to match any solar panel mounting project. Large orders should always ask us for the wholesale solar parts price list.
CLICK ON PICTURE BELOW IF YOU REQUIRE SOLAR PANEL FIXING HELP:
Roof fixings costs in the links below are on a sliding scale, prices are discounted based upon the quantity purchased.
Our company supply goods and material parts for solar panel installations, we do not accept any liability for the structural condition of any roof; flat or pitched in any part or form. Therefore, it is the installers responsibility to check the structural condition when attaching a solar panel fixing product. 
K2 solar fixings parts list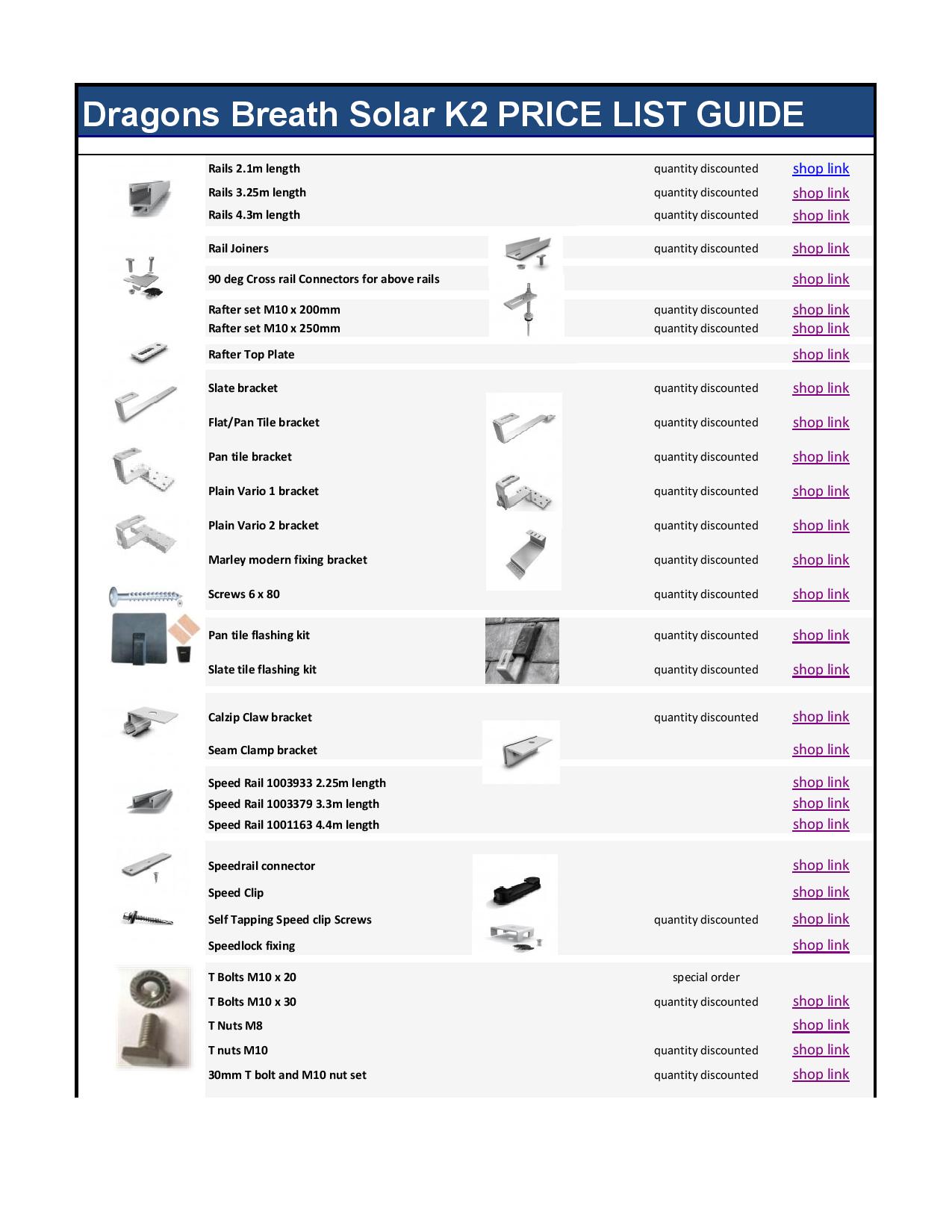 K2 Solar Fixings supplies for PV panel mounting.